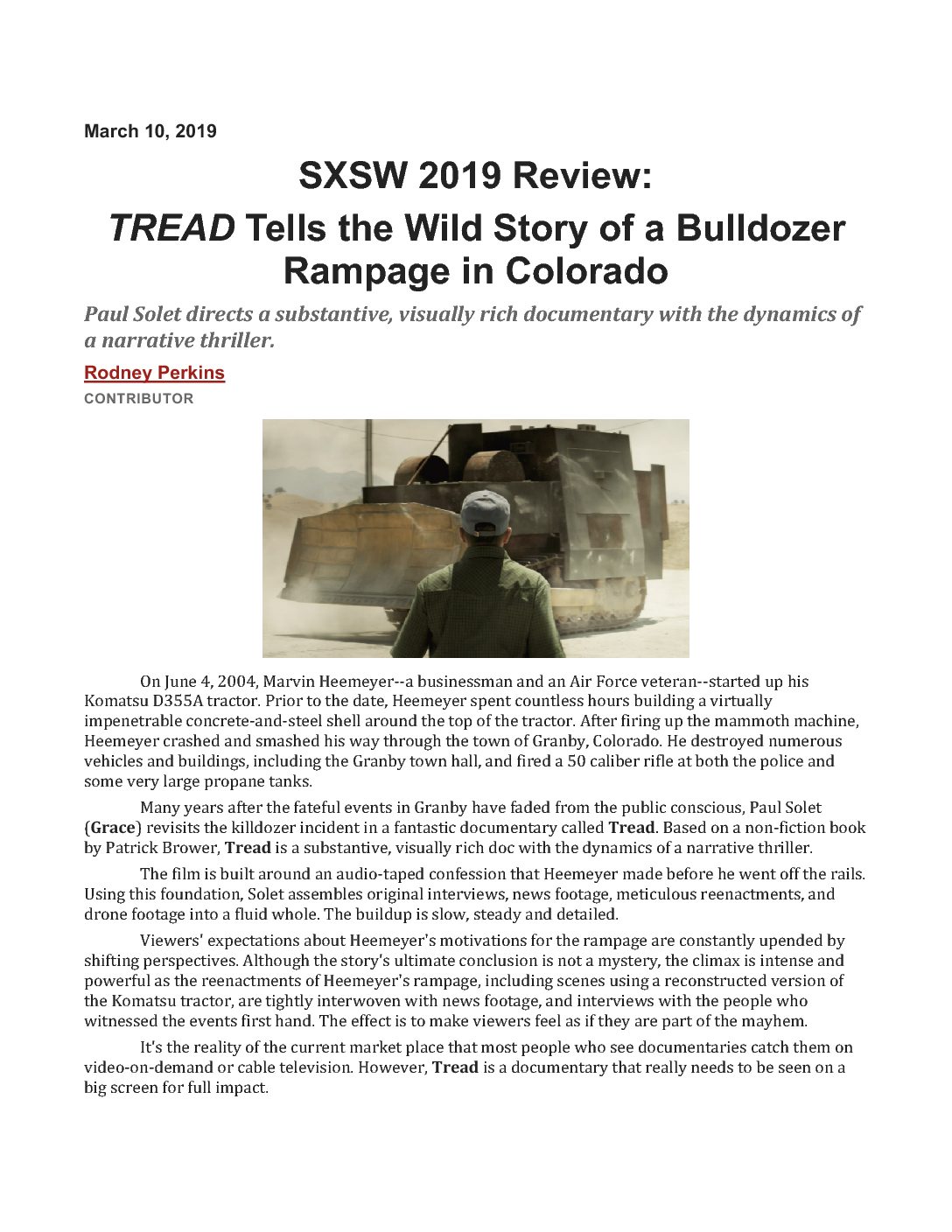 TREAD film reviews come in positive at SXSW
The visual with this posting is one of the reviews of the documentary film TREAD, which is based in part on my book "KILLDOZER: The True Story of the Colorado Bulldozer Rampage." The film had its world premiere at the South by South West (SXSW) film festival March 8. I attended the premiere. I am also going to publish with this article another review of the film that appeared in FlashFilm (/Film), a blog on the film industry that's used a lot by insiders in Hollywood and Manhattan. ...
Doc. film TREAD, sourced by KILLDOZER book, premieres at South by South West
The documentary film about the bulldozer rampage that took place in Granby in June of 2004 has its world premiere March 8 at the South by Southwest Film Festival in Austin, Texas. The film is called TREAD. The film is based in part on source material from the book by Patrick Brower, called "KILLDOZER: The True Story of the Colorado Bulldozer Rampage." Brower, of Granby, was a consulting producer for the film. The book is available at Old Firehouse Books in Fort Collins. Film ...
Bogus Killdozer YouTube full of false facts
I received a polite e-mail through blog from a person who recently read my book "KILLDOZER." He wrote that after reading the book he was "surprised to see your take on the whole situation. After doing a bit of my own research I've come to a different conclusion and I hope that you will too after taking a look at some of the comments in the video linked below. Seems like many fellow Americans like myself share a different sentiment." It was from a guy who claimed his name was ...
Was the Virginia armored vehicle joy ride a KILLDOZER copy-cat crime?
As I write this I don't know if the theft and joyride of an armored personnel carrier by an Army 2nd Lieutenant in Virginia on June 5 was a KILLDOZER copy-cat crime. But I think it's oddly coincidental that it took place only one day after the 14-year-anniversary of the KILLDOZER rampage in Granby, Colorado. In the KILLDOZER rampage, Marv Heemeyer took his armed and armored Komatsu bulldozer on an attack through Granby, destroying or damaging 13 buildings, firing his rifles at police ...
Killdozer armed with AR-15-style rifle
Now that the semi-automatic rifle used in the Parkland shootings is back in the news, it's interesting to note that Marv Heemeyer had an AR-15 type of rifle in the KILLDOZER. A Ruger Mini 14 was recovered from the KILLDOZER after the rampage. The gun was mounted in the right embrasure of the homemade armored cabin Heemeyer had built on the cab of the bulldozer-tank. It's not known exactly how many rounds Heemeyer fired from that weapon during the rampage. However, when police examined ...